Find Your Next Book
Would you like to receive book suggestions via email? Try NextReads newsletters.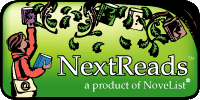 Looking for your next good book? Novelist is the best choice for readers advisory:
Book Review Websites
Goodreads - Meet your next favorite book. The best thing about Goodreads? You can keep track of all the books you/ve read in one easy to use website.
IndieBound - Great website for discovering new books that are being sold at independent bookstores.
NPR Books - Find book reviews, interviews and search books by genre.
New York Times Best Seller List